Wellness Mini Candle Set
Sale price Price $30.00 Regular price Unit price / per
Not sure which scent you like? Try our mini candle box to find the perfect fragrance for you.
Burn time: +/- 4 hours per tin
Our mini candle sets contain all scents from a specific candle collection, carefully packaged sustainably. Use them to test out scents before you buy or send as gifts to your loved ones. Each tin burns for approximately 4 hours. To maximize the full benefits of the mini candles, do not burn for more than 2 hours at a time.

The box includes five (5) 2 oz tins with wood wicks and phthalate-free fragrance oils.
Hand poured along side the bigger 8 oz candles with the same wood wicks, coconut soy wax and fragrances, so there is no compromise in quality.
Match box not included.

Scents

All 5 scents from the Wellness Collection are included in the box;
Serenity - Grapefruit, Orange, Neroli & Sandalwood

Asana - Cinnamon, Lavendar, Jasmine & Patchouli

Om - Vanilla, Frankincense & Myrrh

Namaste - Ylang Ylang, Jasmine, Rose & Geranium

Zen - Chinotto, Palo Santo, Sage & Blackwood
Good to know
Before lighting your candle, trim your wick to 0.25" (or 3/16") above the wax if necessary and let your candle burn for 2 hours to achieve a full melt pool (meaning there is no unmelted wax along the corners of the candle jar). 
Do not burn mini candles for more than 2 hours at a time.
Please refer to our candle care guide for more information.
Warning

Failure to follow instructions could result in fire hazard, injury or smoke damage.
Trim wick to 3/16" above wax for your candle to burn properly.
Do not burn for more than 2 hours at a time.
To prevent fire, do not leave burning candles unattended.
Do not place burning candles on or close to anything that is flammable.
Keep burning candles out of reach of children.
Do not touch candle vessel while it is burning as the container will be hot while candle is lit.
Customer Reviews
10/10/2020
Faith M.
Canada
A steal!
Worth every penny, I enjoyed everyone but I found my true love OM.
Thank you for your feedback, Faith!
NF
09/02/2020
Nicole F.
Canada
Superb Service & Great Candles
I am very pleased with the candles that I received. I had one small hiccup in packaging and Annabel was responsive and helpful. Her brand is incredible, her scents are wonderful and she herself is pleasant and helpful. I would highly recommend a purchase from Annabel. I look forward to seeing what else is in store for her brand in the future.
Thank you for your feedback, Nicole! It was lovely meeting you.
08/15/2020
Kerry M.
Canada
You can't go wrong
I bought this set so that I could sample each fragrance and then choose 1-2 favourites and invest in a large size. I can be pretty picky about scents - some candles immediately turn me off when I smell them. Not so with all of these. I can't say which I like most! I guess the takeaway is that you can't go wrong. Every fragrance is beautiful.
08/15/2020
Jennifer C.
Canada
Great Way to Discover Your Favourite
I bought this pack to figure out what the scents I like. Turns out I love them all. They burn well and smell amazing. I have a large Om candle which I burn for longer periods and it really does burn clean and even. No wax bowling like other candles I've bought. Excited to see that there are new scents today when I came to make my review. Thank you for your making this quality product.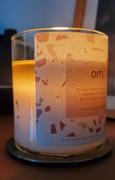 Thank you for your feedback, Jennifer :)
08/09/2020
Samantha P.
Canada
Amazing way to sample the scents!
I loved these candles. I am so pleased with my purchase. They have a nice bright flame, a scent that fills the room but isn't too overwhelming and the scents are just delightful. I will definitely purchase more when I use up my mini candles!
Thank you for your review, Samantha!