Om
Sale price Price $35.00 Regular price Unit price / per
Harness divine energy and all it encompasses; genesis, preservation and freedom.
Scent Notes: Orange, Vanilla, Frankincense & Myrrh
Mood: Sacred, Warm & Spicy
Size: 3" w x 3.5" h 
Burn time: +/- 50 hours
The Om candle contains mysterious spices and captivating, aromatic resins. Reminiscent of a great European basilica or a secret sacred altar.
The base notes in this candle include Frankincense and Myrrh. According to history, Myrrh oil served as a rejuvenating facial treatment, while frankincense was charred and ground into a power to make the heavy kohl eyeliner Egyptian women famously wore.⠀
Whether you're kickin' it solo on the weekend, or spending some much needed quality time with your loved ones, burn Om and relax, freeing your mind of any worries because you deserve it.
Recommended Use
For those days you want to invite more spirituality in. Create a space reminiscent of the historical masterpieces in Rome.

Good to know
Before lighting your candle for the first time, trim your wick to 0.25" (or 3/16") above the wax and let your candle burn for 2 - 4 hours to achieve a full melt pool (meaning there is no unmelted wax along the corners of the candle jar).
Please refer to our candle care guide for more information.
Warning
Failure to follow instructions could result in fire hazard, injury or smoke damage.
Trim wick to 3/16" above wax for your candle to burn properly.
Do not burn for more than 4 hours at a time.
To prevent fire, do not leave burning candles unattended.
Do not place burning candles on or close to anything that is flammable.
Keep burning candles out of reach of children.
Do not touch candle vessel while it is burning as the container will be hot while candle is lit.
Customer Reviews
07/25/2020
Tammy
Canada
Om my! What a fantastic candle!
I'm guilty of saving "the good stuff" for a special occasion and Seventh & Oak candles fall into that category for me. After buying four candles weeks ago, I finally burned Om tonight. If you're into scents such as patchouli, sandalwood, amber and the like, I think you will enjoy the frankincense and myrrh in this candle. The wood wicks elevate Annabel's candles to an experience above and beyond home decor and fragrance; they would be a perfect gift for any candle lover.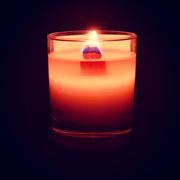 Thank you so much for your feedback, Tammy!
07/21/2020
Oghenetejiri A.
Canada
Love it!
Burns well and a very relaxing scent
Thank you for your feedback, Tejiri!
07/07/2020
Kat
Canada
Ommmazing!
We are obsessed with our new Om candle & cannot wait to try the other scents from Seventh & Oak, these products are top quality you will not regret grabbing one of these beauties!
Thank you, Kat! Glad you're loving Om!
07/06/2020
Dakota
Canada
Adore and Obsessed
The "Om" candle was definitely my favorite out of the two I ordered! Very bold and grounding. "Asana" was the other which was also delightful but a bit more delicate than "Om" and I do like my fragrant candles. Certainly not too strong but you can definitely smell it when you walk into the room!
Thank you, Dakota! So glad you love Om.